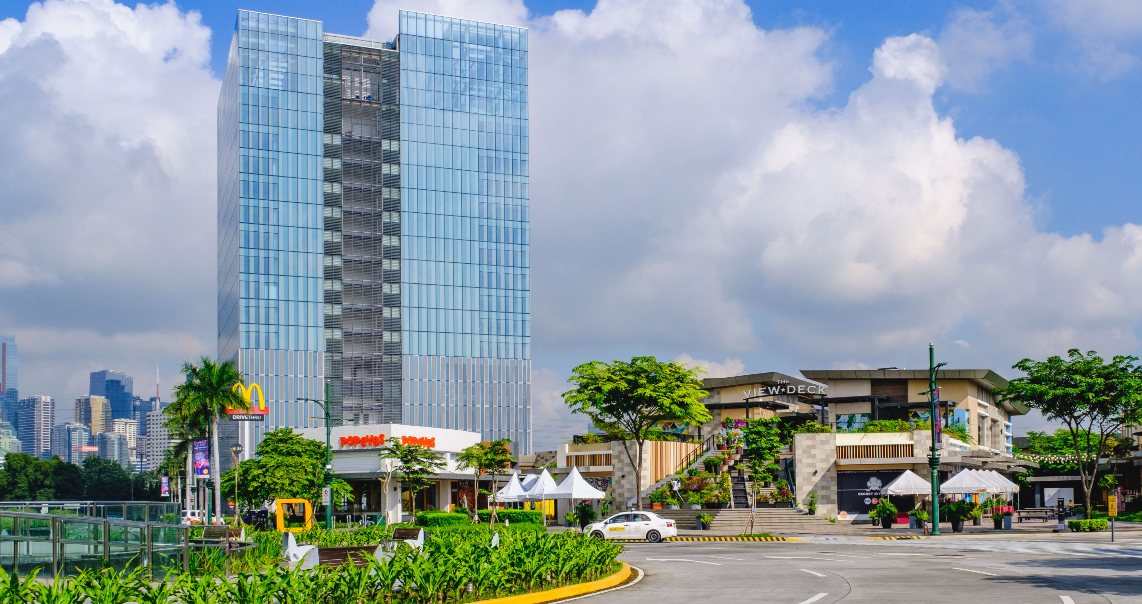 Press Release | Alliance Global Group, Inc. | Megaworld Corporation | November 07, 2022
Four Megaworld buildings get new LEED certifications
The company received two Gold and two Silver certifications for office towers in Arcovia City and Uptown Bonifacio, bringing MEG's total number of LEED-certified towers to 17
Megaworld, the country's largest office developer and lessor, made another step towards embracing sustainability as the U.S. Green Building Council (USGBC) and Green Business Certification Inc. (GCBI) recently awarded four office towers in its Uptown Bonifacio and Arcovia City townships coveted Gold and Silver LEED (Leadership in Energy and Environment Design) certifications. 
Earning a Gold LEED certification each are the 17-storey One Paseo –the first office development to rise within the 12.3-hectare Arcovia City along C5 Road—and the 25-storey Worldwide Plaza in Uptown Bonifacio, a build-to-suit office building that is now the home of the Philippine Global Service Center of JPMorgan Chase Bank, N.A.
Also receiving Silver LEED certifications recently were Alliance Global Tower and Uptown Place Tower 3, both located in Uptown Bonifacio. These now bring Megaworld's total number of LEED-certified buildings to 17— seven Gold and 10 Silver certifications. 
"Megaworld has always been an advocate for sustainable developments, as demonstrated by its commitment to build green buildings taking LEED standards into account across its various townships. We thank the U.S. Green Building Council and Green Business Certification Inc. for this recognition, and we continue to adhere to our pledge of supporting the protection and conservation of the environment as we build sustainable communities all over the Philippines," Roland J. Tiongson, first vice president, Megaworld Premier Offices.
The full Megaworld portfolio of LEED-certified buildings include the following developments located in Megaworld townships in Taguig City: 8 Campus A, 8 Campus B, 8 Campus C, and Southeast Asian Campus (all Gold-certified) in McKinley Hill; 1 West Campus, 2 West Campus, 3 West Campus, 5 West Campus, 6 West Campus, 8 West Campus, (all Silver-certified), and 10 West Campus (Gold) in McKinley West; and Uptown Tower Place 1 and Uptown Place Tower 2 (both Silver-certified) in Uptown Bonifacio.
Leading the way towards sustainable office developments

Meanwhile, plans are underway to have most, if not all, of Megaworld's upcoming office towers nationwide LEED-certified, according to Tiongson.
"Megaworld is an advocate of sustainability and nation-building. Being the top office developer in the Philippines, we feel that it is our responsibility to lead the market in terms of improving our products in the best way possible, and we believe that having LEED-certified buildings allows us to achieve that. This is very important now more than ever because in a post-pandemic setting, having LEED-certified buildings also improves the working environment for its occupants," Tiongson adds.
Megaworld's first two LEED certifications were awarded to its office developments in 2014.
In the LEED rating system, the most widely used green building rating system in the world, the GBCI verifies, reviews, and awards projects applying for certification points up to 110, depending on their adherence to prerequisites addressing carbon, energy, waste, water, transportation, materials, health, and indoor environmental quality. The four levels of certifications are the following: Certified (40-49 points), Silver (50-59 points), Gold (60-79 points), and Platinum (80 points and above).
 
MEG 2.00 PHP 0.00 (0.00%)