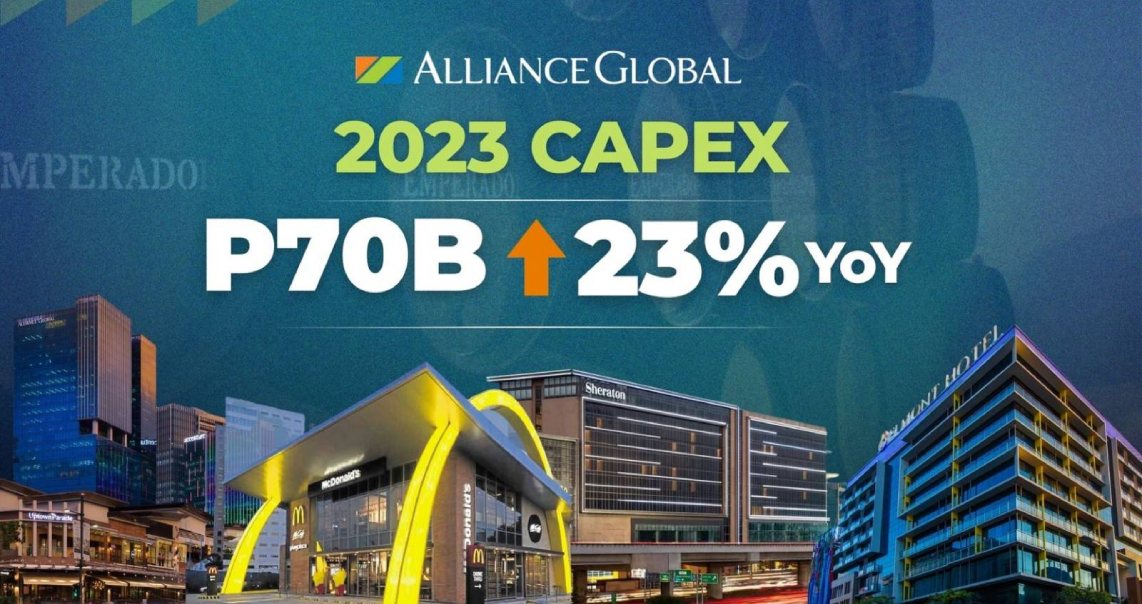 Press Release | Alliance Global Group, Inc. | June 15, 2023
AGI hikes CAPEX to P70-B as it moves to strengthen position as a 'Premium Lifestyle Conglomerate'
Tycoon Andrew Tan-led Alliance Global Group Inc. (AGI) is set to strengthen its position as the country's premium lifestyle conglomerate with projects, products and services designed to further uplift consumer tastes and preferences. The Group is allocating P70-billion for capital expenditure (CAPEX) this year, an increase of 23% year-on-year, to sustain the strong growth momentum of its domestic and international operations.
"AGI has been focused on delivering products and services that create a bespoke and premium lifestyle for our discerning customers. A firm believer of the country's attractive long-term growth prospects, the Group is betting on the continued improvement in consumer spending," says AGI Chief Executive Officer Kevin L. Tan during the conglomerate's annual stockholders' meeting held this morning.
The Andrew Tan-led conglomerate has varied interests spanning real estate developments through property giant Megaworld Corporation; spirits manufacturing through Emperador Inc.; leisure, entertainment and hospitality through Travellers International Hotel Group, Inc.; and, quick service restaurants through Golden Arches Development Corporation (GADC), popularly known as McDonald's Philippines, which has a long-term partnership with AGI and is led by its Chairman and Founder George Yang.
AGI recorded a 20% year-on-year increase in consolidated revenues in 2022 to P183.6-billion, while preminority income grew by 6% year-on-year to P25.2-billion. AGI's strong showing mirrored the achievements of its major subsidiaries, most of which have already reached their pre-pandemic operating results. Attributable profit stood at P16.1-billion, reflecting a growth of 7% year-on-year based on core earnings in 2021.
For this year, Megaworld is spending P55-billion in CAPEX for its aggressive plans to expand its office, mall and hotel business segments, support the completion of P73-billion worth of projects ready for turnover in the coming months, and launch 20 new development projects this year valued at P60-billion.
Emperador is setting aside P7-billion to fund the upgrade of its machinery and facilities here and abroad. About P6-billion of said amount will be spent to scale up the operations of its distilleries in Scotland in order to meet the growing demand for its highly popular premium single-malt whisky brands The Dalmore, Jura, Tamnavulin and Fettercairn. The balance of P1-billion will be utilized to improve the company's brandy production facilities in the Philippines, Spain and Mexico.
Travellers International is allocating P4-billion mainly for its ongoing expansion projects at the Newport World Resorts complex. The company aims to sustain the strong growth in its gross gaming revenues which hit record levels in 2022, and the recovery of its non-gaming revenues alongside the resurgence in staycations and MICE activities.
Meanwhile, GADC will utilize its P4-billion capex budget to further expand its store network as it is targeting to open 50 stores this year following its successful launch of 45 new stores in 2022. GADC holds the exclusive franchise to operate restaurants in the Philippines under the 'McDonald's' brand.
"AGI is also positioned as the biggest player in the country's tourism sector, considered as the low-hanging fruit for the Philippine economy," reveals Tan.
It is developing new tourism estates to add to its premium townships like its mountain resort development, Twin Lakes in Tagaytay (Cavite), and its popular beach resort destination, Boracay Newcoast, in Boracay (Aklan).
The Group has a 300-hectare property called The Hamptons Caliraya, a sprawling lakeside township in Laguna that allows residents to construct their own homes with built-in docking areas along the famed Lake Caliraya. The township will also offer a charming clubhouse and a Private Marina where residents can dock their boats and enjoy water sports facilities and activities.
"Moving forward, AGI will continue to pursue expansion projects that will help put it at a vantage position to elevate the tastes and preferences of the Filipino consumer and customers worldwide with its aspirational product offerings, further reinforcing its position as the country's truly premium lifestyle conglomerate," stresses Tan.
AGI 9.93 PHP -0.27 (-2.65%)
MEG 2.04 PHP -0.01 (-0.49%)